XiAn was pretty warm and dry in April. Shaanxi yellow earth mixed with air due to dry climate in April. Still it is described as the best time to visit, as Shaanxi is ussually either extremely hot or bitterly cold. Well, just like Wuhan so to say. XiAn has potential value of history and XiAn was China's political capital. We spent 2-3 days there to see the most spectacular and essential sights. One of the top list around the city east of XiAn is the Terracotta Warriors.
The man who discovered the Terracota warriors in 1974.
A short visit to Huaqing hotspring on the way to the Terracota warriors. This park was once the favoured retreat of emperors anc concubines during the Tang dinasty. The most famous bather of all was Yang Guifei, a concubine often blamed for bringing the rebellion in 756.
Outside the city wall, XiAn famous landmark is the Big Goose Pagoda (Dayan ta). This pagoda dominates the surrounding modern buildings, restaurant and malls.
XiAn is one of the few cities in China where the old city walls are still standing. Built during the Ming dinasty.
Inside the city walls, the Bell Tower originally held a large bell that was rung at dawn and the Drum Tower marked nightfall. Both date from the 14th century and rebuilt in 1700s.
Heading to Muslim Quarter north from Drum Tower. The narrow lanes are full of shops & restaurants behind wooden doors.
Eating at Muslim Quarter is a great deal. Many common dishes in XiAn are offered here. The famous of all is the Yangrou paomo, a soup dish with crumbling flat loaf bread and adding noodles, mutton and broth.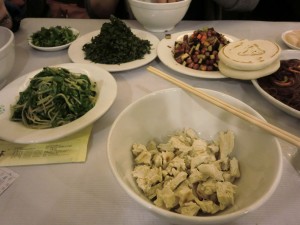 In the north & west of XiAn is the Tomb of emperor Jingdi. On the way to the airport, we stopped here. The tomb itself is still being excavated, that's the reason to make the trip out there!